1

Tap Decoder in the More menu in the upper right corner of the screen.
2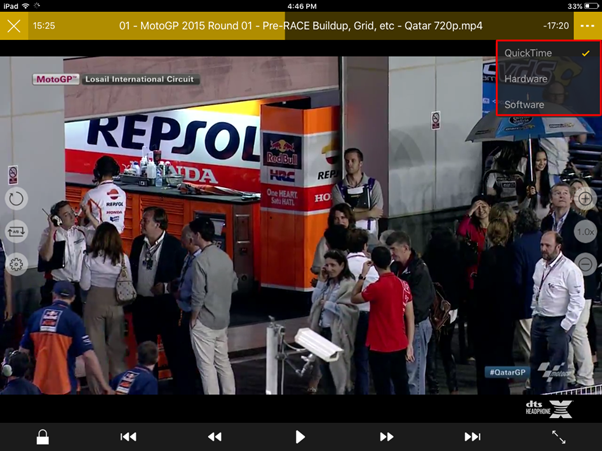 You may choose a decoder (QuickTime, Hardware, Software) you would like to configure.
What is QuickTime Plug-in?
QuickTime Plug-in is a multimedia framework created by Apple. File formats like MP3, MP4 and MOV that are played on the defaut player of Apple are decoded byQuicktime to be played.
– We suggest you to change the decoder to Hardware/Software one as you may get screen stuterring while playing a video at double speed via Quicktime decoder.
– If you do not want to use the QuickTime Plug-in, Tap nPlayer Setting > Playback > Deactivate QuickTime plug-in.
What is Hardware?

Non-Apple default file formats are automatically configured as Hardware decoder.
If a file has been encoded with one of those codecs, it will be played via HW decoder. Otherwise, a software decoder will start to work.
What is Software?
Software decoder is a decoding feature of nPlayer. Since it's installed in the device, it may require high CPU usage and more battery power.